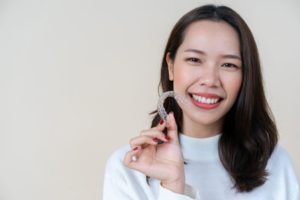 Now that you have Invisalign in Orange, your journey to getting a straighter smile is well on its way. Let's dive into how you can keep your aligners "invisible" with tips on keeping them clean and maintaining their invisibility.
Keeping your clear aligners clean is essential and should always be done every day. Not doing so is like taking a shower just to put dirty clothes on right afterwards! Clear aligners get food particles and debris trapped in them, so you must keep them clean and only drink water/clear liquids when wearing them.
Let's take a look at some of the different options for how to care for your clear aligners.
The Simple Toothbrush and Toothpaste Method
Simply brush your aligners the same way you brush your teeth. Make sure you clean both the outside and inside of your aligners. It is also essential to take note of the type of toothpaste you use because some of them contain abrasives that can eventually scratch your clear aligners.
The Soaking Method
There are a couple of ways you can go about soaking your Invisalign aligners:
Invisalign cleaning tablets (Poly dent- denture cleaners) – Place your aligners in a cup or container with water and then drop your tablet in for 3-5 minutes to ensure that your aligners are cleaned and ready for use. Always rinse them off under running water before you wear them again.
Listerine – Your everyday mouthwash can also do the trick. It has the benefit of sterilization because of the alcohol content. Do not soak them in colored mouth wash—no one wants to end up with blue or red Invisalign, right?
When soaking your clear aligners, make sure you are not damaging them. Soaking them should not make them look discolored or change their shape. It is always best to combine both brushing and soaking to get that deep cleaning done once every week.
 Keep Your Aligners Safe
Clear aligners are not invincible, and they can break quite easily, so always be wary of how you store them and how you take them out of your mouth. Always place them in their trays when you're eating, and always avoid placing them in tissues and napkins. So go ahead and get in touch with Dr. Michelsen in Orange for more information on how to care for your Invisalign or book a consultation.