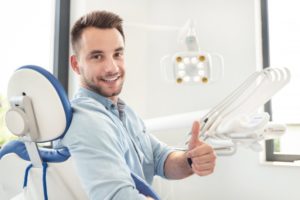 Did you know that up to 80% of people abandon their New Year's resolutions by February? Many people make their goals too broad or unattainable. However, some of the easiest resolutions to maintain are those that involve making tiny changes to your dental care. As any dentist will tell you, these little changes can make a huge difference! If you're ready to say "new year, new me" in 2022, then follow these three tips for a healthy smile!
1. Upgrade Your Oral Hygiene
The average person only spends 45 seconds brushing their teeth, but according to the American Dental Association, that's not long enough to remove food debris, plaque, and harmful bacteria from your teeth. Make sure to spend two full minutes brushing – once in the morning and again before bed. Setting a timer or playing a two-minute song can help.
Flossing is another small adjustment you can make that pays off in the long run. Cleaning between your teeth not only freshens your breath, but it also reduces your risk of gum disease and cavities. It can be hard to start a flossing habit at first, but once you've done it every day for a few weeks, it should become second nature before you know it.
2. Make Small Dietary Changes
Your oral hygiene isn't the only thing that affects your smile's health; your diet also plays a major role. Believe it or not, how you eat is just as important as what you eat! With that said, here are some tips for making your diet as mouth-healthy as possible:
Limit the number of times a day you consume sugary or acidic foods and beverages. That way, your teeth aren't under constant attack from dangerous bacteria.
If you can't brush or floss after eating, rinse your mouth out with water to clear away leftover food debris. Chewing sugar-free gum can also help since it makes your mouth produce more saliva.
Add more fruits and vegetables to your diet, as they contain valuable nutrients that promote healthy teeth and gums.
3. Get Two Dental Checkups in 2022
Going to the dentist might not feel like a huge priority if your teeth don't hurt. However, a routine dental checkup now could save you a great deal of time and money later on. Your dentist can spot early signs of tooth decay, oral infections, and other health issues during your exam – long before they would have started hurting. They can then administer swift, conservative, and cost-effective treatment than you would have needed if you'd waited until you'd experienced discomfort to call your dentist.
New Year's resolutions often fail because people make them too lofty. These dental health goals are much easier and can help you enjoy a healthier smile this year and for many more to come!
About the Author
Dr. Renu Michelsen has more than 20 years of experience in the field of dentistry, and there's nothing she loves more than helping patients in Orange, CA achieve healthy smiles they can be proud of. At Michelsen Dental, she provides a vast array of services, from routine checkups to cosmetic makeovers and more. If you'd like to schedule your next dental cleaning or have questions about your at-home oral care, you can reach out to the Michelsen Dental team by calling 714-538-1178.