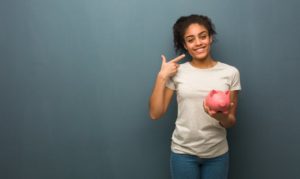 Every year, more than 70% of Americans receive a tax refund, according to the IRS. If you're part of that group, you're probably thinking of ways that you can treat yourself with that newfound bit of cash. As tempting as it may be to spend it on a tropical weekend getaway or a brand-new TV, consider investing that money in something that will pay major dividends later: your dental health. Here are three ways that you can invest your tax return in your dental care and save a great deal of money in the long run!
1. Enjoy Peace of Mind with Regular Checkups
Many people view it as a waste of money (and time) to see a dentist when their teeth feel fine. However, waiting to visit your dentist until your mouth hurts could actually end up costing you more money overall. Why? Often, oral health problems like cavities develop without any noticeable symptoms. By the time your tooth starts hurting, the issue has likely already progressed to the point where it needs more extensive (and costlier) treatment than it would have if your dentist had detected it early at a routine checkup.
In this way, spending money now on preventive visits every six months can help you avoid the need for expensive dental procedures down the road.
2. Address That Dental Issue Before It Gets Worse
Unlike many illnesses elsewhere in the body, dental problems almost never get better on their own. If you've been dealing with a cracked, sensitive, or aching tooth, these issues won't disappear unless you see your dentist. In fact, they'll typically worsen without treatment. For instance, you might have a cavity that needs a small filling, but waiting too long could cause the decay to advance, necessitating a crown, a root canal, or even an extraction!
Since preventive dental care always costs less than emergency treatments, it's worth investing some money now to avoid needing to spend even more later on.
3. Boost Your Self-Confidence
Even if your smile is perfectly healthy and you stay on top of your routine checkups, you might have some issues with your teeth's aesthetics. It's not uncommon for teeth to get duller over the years, for example. If you've been feeling self-conscious about your grin, cosmetic dentistry can make an enormous difference. From teeth whitening to veneers and more, cosmetic dental treatments can dramatically boost your confidence and improve your day-to-day quality of life. You might even feel confident enough to try out for a promotion, making this investment definitely worthwhile!
You deserve to have a healthy smile you can feel proud of, and one easy way to do that is by investing your tax refund into your dental care. Reach out to your dentist in Orange, CA today to schedule an appointment and get started!
About the Practice
At Michelsen Dental, we have a general dentist, an oral surgeon, and an orthodontist on our team, allowing us to meet the dental needs of most people under one roof. With Dr. Michelsen, Dr. Tran, and Dr. Attaphitaya, you can expect world-class service from true experts who will also form genuine connections with you. Whether you need a basic checkup and cleaning or a full smile makeover, we're ready to give your smile what it needs. Get started today by reaching out to our Orange, CA dental office via our website or by calling 714-492-1169.