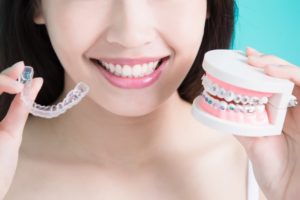 If you're like many people, you wore braces when you were in middle school or high school. You probably remember in vivid detail the sheer relief you felt when you got them taken off and saw your newly straight teeth in the mirror. After a few years, though, your teeth have shifted. While they're not as crooked as they were before braces, they're definitely not as straight as you'd like them to be. You might be wondering whether you can straighten them with Invisalign clear aligners instead of having to wear braces all over again. In most cases, the answer is yes! Here's what you need to know about getting Invisalign after braces.
Invisalign After Braces – What to Expect
Traditional braces are often more effective at correcting severe orthodontic issues, while Invisalign is ideal for mild to moderate cases of crooked or gapped teeth. Because the braces you wore previously may have fixed the more severe alignment problems, you might be more likely to qualify for Invisalign than you would have before braces. Plus, you'll probably have a shorter treatment time.
When your dentist evaluates your candidacy for Invisalign in Orange, CA, they'll focus more on the current state of your teeth rather than whether you've worn braces in the past. From there, they'll come up with a treatment plan and give you an estimate of how long your treatment will take.
Why Choose Invisalign Over Braces?
Maybe wearing braces didn't bother you all that much. However, most patients prefer Invisalign because of its more discreet appearance. After all, metal brackets and wires on your teeth may make it difficult to maintain a professional image. In addition, Invisalign provides the following advantages over traditional orthodontics in Orange, CA:
No dietary restrictions – You'll be able to eat whatever you want as long as you remove your aligners beforehand.
Easy oral hygiene – Similarly, your daily oral care routine will be much easier since you won't have to brush and floss around your orthodontic appliance.
Convenience – The routine checkups with your dentists over the course of your treatment are much quicker than they would be with braces. Instead of having to tighten braces, your dentist simply evaluates your progress and gives you the next few sets of aligners.
Comfort – The trays are made from smooth plastic that won't irritate the soft tissues in your mouth like metal wires and brackets do.
Are you interested in having a straight smile again? It's worth your while to ask your dentist if you're a candidate for Invisalign!
About the Practice
At Michelsen Dental, we have an experienced, compassionate team of experts, including Dr. Renu Michelsen (a preferred Invisalign provider) and Dr. Surat Attaphitaya, or "Dr. A," an orthodontist. When you visit our office, you can trust that your smile is in the hands of a caring professional who will help you feel right at home every single time. If you're ready to learn more about Invisalign for adults, you can contact us at 714-538-1178.