Get to Know Dr. Viet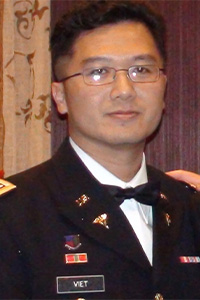 Finding the truth takes time, finding an honest dentist takes time. At Michelsen Dental, Dr Viet together with Dr. Michelsen will shorten that timeline down to the immediate truth about your dental health.
Where Did You Study Dentistry?
Dr. Viet's educational background includes medicine received at the Medical College of Virginia, surgical residency training in New York at SUNY hospital and dentistry at the University of Southern California. Though Dr. Viet has been a professional student the majority of his life thus far and will continue to be a student learning forever, he has put all his education to task and refined his skills further when the US Army deployed him to Iraq during Operation Iraqi Freedom with the 547th Medical Company. Upon returning to the States, Dr. Viet opened his own dental practice and continued to learn and apply oral stem cell therapy in nursing homes to treat dry mouth in geriatric patients with poor dental health due to lack of enriching saliva that your teeth need. Rest assured at Michelsen Dental you will receive among the finest dental health care that oral medical science has to offer.